Kohn Phangan - Interest map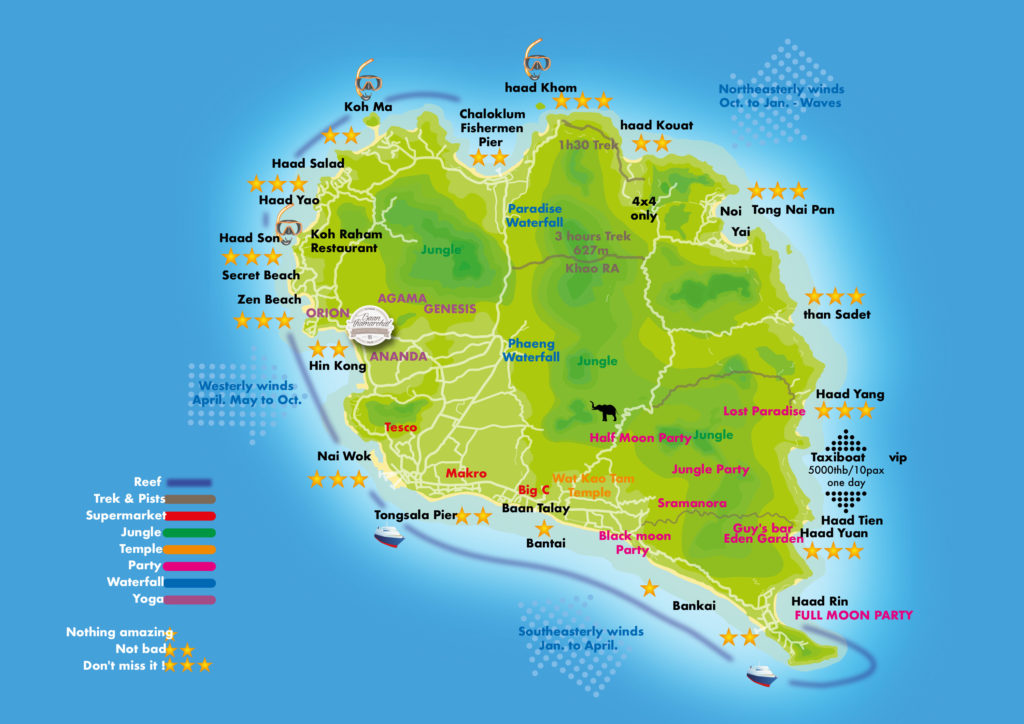 Tips and tricks
→ Don't miss Saturday biggest market, plenty of foods, art crafts and good mood. Buy your own food and eat on the beach, there's so much choice that you can't even try everything!
→ Best website to be aware of what's going on Parties, events, workshops, retreats and much more: phanganist.com
→ We also recommend phangan.live
→ Best shop for liquor, wine or beer is Big A selling all day long.
Please be aware Alcohol is sold at 7/11 and supermarket only from 11am-1pm and after 5pm-10pm.
→ At any temple, dress properly, take of your shoes while entering, don't sit on or touch Buddha representation and feel welcome.
→ Be polite and respectful. Don't dress with bikini in town and wear shirt, Thai people get offended seeing foreigners with swimsuit in town.
→ Don't get irritated if people don't understand you, after all, you are thousands of miles away from home.
→ Get a Thai SIM card and stay unlimitedly connected! (AIS or DTAC are very good provider).
It is very affordable (400 Bahts for 2 weeks) and Baan Thamarchat is on Google map!
→ Drink juices they're cheap and delicious! Don't fear ice, Thai people don't drink water from the tap.
→ You like swimming with fish? Don't miss Koh Raham restaurant at Haad Son (West), go pass the restaurant, find the sea, jump in there or go down stairs and you will see thousands of fish.
→ Don't ride elephants but buy whole bunch of bananas anywhere for US2$ and go to feed them, it's fun and helpful.
→ Avoid 7/11 multinational company. Prefer Thai little shops! You'll help entire families to support their kid's studies.
→ Say no to plastic bag and straw!
→ The Reef: West and South coast is naturally protected by a reef, ideal for snorkeling inside the lagoon but water level can be too shallow to swim at low tide along certain months.
→ Our favorites snorkel spots: Koh Ma, walk on the sand bank then when you reached the island swim to the left. You'll see thousands of multicolored fishes and even turtles if you're lucky. Haad Khom, swim from the beach and follow the reef, it is simply beautiful and full of fishes. Koh Raham Restaurant, our family's favorite! Go to Haad Son Beach then find Koh Raham Restaurant. Walk through the restaurant, try the huge swings, cross the wooden bridge, go down 6 stairs or jump (3 meters) in the sea! You might see fishes as you've never seen!
→ Supermarket: red on the map. Please keep in mind to support Thai little market. Best fish/seafood/fruits and vegetables quality is at the fresh market at Tong Sala from 5am till 8pm.
Things to note:
Koh Phangan got all along the year 3 wind directions. Northeasterly from October to January, Southeasterly from Jan to April then Westerly from April to October. Please consider due to wind, swell and currents, our favorite beach could be not as beautiful as you or we expect and depending the period you are travelling to Koh Phangan island.