Hong Sang San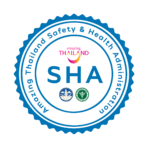 Baan Thamarchat has its own Creativity Space called "Hong Sang San".

It is a +100 sqm room devoted to Yoga practice, Meditation, Massage, Celebrations such as Weddings, Birthdays or anything else you can have in mind.

It has its own fresh Natural roof, wooden curtains, tens of fans, Yoga mats, blocks and belts, whiteboard and sound system with Bluetooth.

At the back of it you will find a kitchen area with fridge, gas stove, blender and lot of kitchenware. Behind the space are sanitary with toilets and shower.

Baan Thamarchat linked with Hong Sang San offers a unique space and accommodation concept at Koh Phangan, Thailand.  It is a perfect space for a qualitative Yoga retreats or hosting an unforgettable wedding ceremony.